Hästens Iconic Blue Check 40th Anniversary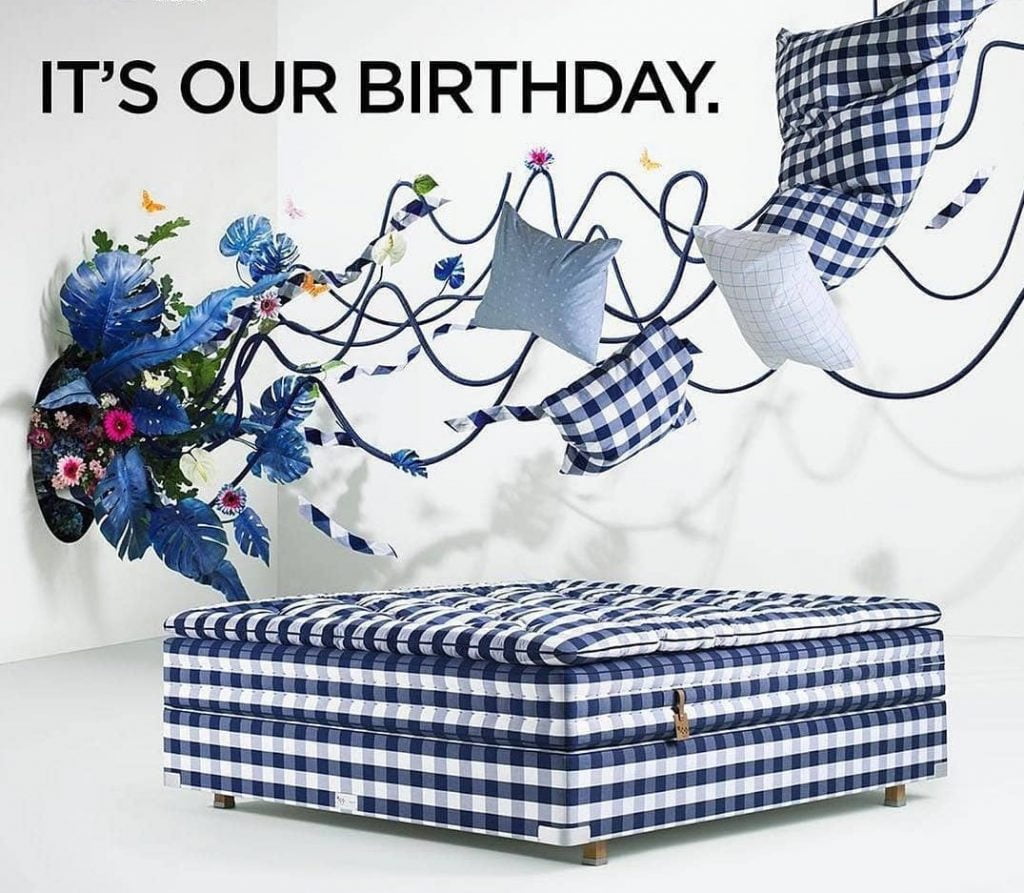 To celebrate the Hästens Iconic Blue Check 40th Anniversary, Hästens is giving away FREE bed linen gift packages when you purchase a Hästens Blue Check Anniversary Bed. However, we only have limited numbers available worldwide so make sure you don't miss out.
These amazing gift packages range from £1 252 up to £5 590 worth of FREE bed linens depending on the Blue Check Anniversary Bed you select.
There are 10 Blue Check Anniversary Bed models to select from in the strictly BLUE CHECK ANNIVERSARY EDITION.
Hästens Iconic Blue Check 40th Anniversary – FREE Packages Worth!
Vividus           £5 590
Marwari         £4 130  
Appaloosa    £4 130
2000T             £4 130
Herlewing     £4 070
Eala                 £4 070
Maranga        £1 930
Superia          £1 510
Excel               £1 252
Marquis          £1 252
Here are two the popular models: The Hästens Eala and The Hästens Maranga
Hastens Amersham can offer you 0% Interest Free Finance on all beds
Hästens Iconic Blue Check 40th Anniversary – The History of the Blue Check
Jack Ryde created the Hästens Blue Check in 1978. Jack is the father of the current owner and Executive Chairman, Jan Ryde.
Hästens' Owner and Executive Chairman, Jan Ryde
Jack Ryde was fascinated by arts and design and so he set out to draft a new and distinctive pattern in a fabric of the highest quality to represent the Hästens brand. Jack Ryde unveiled his Blue Check design at a furniture trade fair in Sweden. This innovative new fabric drew much criticism from journalists. The journalists believed this eye-catching design was at odds with the trend for shades of brown, green and orange.  The Blue and Which Check Hästens upholstery was so unlike anything ever seen on a bed before. Who would have known that 40 years on this design would symbolise and define Hästens. Therefore this was truly a wise decision by Jack Ryde.
Hästens Iconic Blue Check 40th Anniversary – The Fabric
The classic Hästens check is a jacquard woven fabric. The fabric is made of 100 percent cotton of the highest quality and eco-friendly dyed in compliance with Oeko-Tex standard 100. The dense, lustrous fabric is woven with twined cotton.
Also, the fabric has as many as 45 threads per square centimetre (290 threads per square inch), engineered into bolsters with precision accuracy.
Blue Check acts as a physical alignment tool for the Hästens craftsmen, to give the right shape to the beds. Throughout the Hästens factory, Blue Check is the grid from which quality and alignment are measured in order to give you the ultimate sleep experience functionally and aesthetically.
Hästens Iconic Blue Check 40th Anniversary – Craftmanship
Your bed decides the quality of your sleep and also how you face the challenges of the day that lies ahead.
It's only during your waking hours that you can determine whether or not you had a good night's sleep.
Hästens have such exacting standards when it comes to craftmanship.
The side-stitching is a very important factor.
Precision in needle placement and also stitch length is crucial.
This determines the stability and pliability of the bed's many layers of horsetail hair, wool, cotton and flax.
Also Hastens have added a leather tag for that extra luxury detail.
Finally a uniquely luxurious touch is the addition of the metal Hästens Iconic Blue Check 40th Anniversary is a beautiful plaque.
Make an appointment to visit the Hästens Amersham Showroom
to meet our Sleep Expert Richard
 Tel: +44 (0) 1494 431200
enquiries@thenaturalbeddingcompany.com
 There are a limited numbers of the Hästens Iconic Blue Check 40th Anniversary Beds
This amazing offer is only valid while stocks last
Call us for a Private Appointment  –  Tel: +44 (0) 1494 431 200
Appointments available 7 days a week and evenings (7am – 10pm)
We have one of the largest Hästens showrooms in the world with 22 beds on display
3,000 sq ft Showroom
Private free parking directly outside our showroom
If using public transport, we are 30mins from Marylebone Station (we would be happy to pick you up from Amersham railway station)